"Despre un alt Mihail Sadoveanu. Ganduri scrise si nerostite despre o poveste cu simboluri ezoterice"
Autor Dr. Viorel Danacu  

Coautor prf. Dragos Hutuleac


Vizitati AICI siteul oficial al Centrului Regional de Studii Francmasonice Paris-Bucuresti
---
"Istoria Francmasoneiei" de Albert MacKey
Aparitia unei asemenea carti , reprezinta un moment de mare importanta in spatiul carpato-danubian. Un lucru frapant pe parcursul acestei carti, este povata masonica, cu multe implicatii in lumea laica si care suna asa: daca ai urcat treptele sociale, te-ai apropiat de albastrul cerului. Sa nu uiti insa ca acest albastru, va fi intotdeauna indiferent. Sa privesti inapoi si, daca poti, sa o faci cu placere, sa nu uiti niciodata de unde ai plecat, acordand in acest fel gratia sufletului tau intru gloria Marelui Arhitect al Universului. Suntem oare, noi masonii, o socxietate de elita? Este necesara perfectionarea noastra in permanenta? Cartea in sine, vine sa umple un gol in cultura masonica romaneasca
Se impune ca cititorul acestei carti sa stie ca Albert Mackey ( 1807-1881) a fost nascut la Charleston, in Carolina de Sud si a fost initiat in loja Saint Andrew' s nr. 10. A facut studii de medicina pe care le-a abandonat si s-a dedicat in exclusivitate, pentru tot restul vietii, masoneriei, intretinand corespondenta vasta cu sefii masoneriei de pe toate meridianele, creatia lui, avand un caracter interdisciplinar.
Pe plan mondial, acest enciclopedist american, a fost recunoscut ca fiind "The best informed Mason in America," iar Albert Pike, l-a numit, facandu-i elogiul trecerii la Orientul Etern, " America's greatest Mason".
The book is composed of Pike's ruminations and essays on the Degrees of the Scottish Rite, from the 1st to the 32nd. It is intended as a guidebook for people entering the Scottish Rite, and explains Pike's understanding of the symbolism and allegory in the degrees he wrote. However, it is a truly imposing tome. There are 861 pages of text and a 218 page index; the book itself is over two inches thick. There are thirty-two chapters, each discussing the philosophical symbolism of a degree of Freemasonry in extensive detail. In the Preface to the 1950 Edition, the editors wrote about Pike thus:
"In preparing this work, the Grand Commander has been about equally Author and Compiler; since he has extracted quite half of its contents from the works of the best writers and most philosophic or eloquent thinkers. Perhaps it would have been better and more acceptable if he had extracted more and written less."
http://knowledgefiles.com/categories/freemasonry/morals-and-dogma/
---

Duncan's Masonic Ritual and Monitor
This book presents details of Masonic initiation rituals, along with grips, passwords and regalia. Written in the 19th century, Duncan's Ritual, as it is known, has been republished numerous times. It includes the three basic degrees of the Ancient York Rite, and four additional advanced degrees. There are over a hundred illustrations, all reproduced here, which show important details of the rituals, including gestures and symbolic pictures. Duncan's Ritual is careful to note known variations where they exist.This book will be of interest to beginning Masons who want a roadmap of the craft, as well as experienced Masons who need a review.
A classic reference book containing the actual rituals that are still practiced today in Masonic lodges.
http://knowledgefiles.com/categories/freemasonry/duncans-masonic-ritual-and-monitor/
---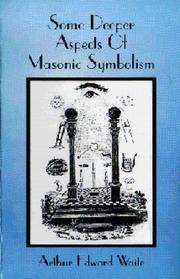 A.E. Waite - Some Deeper Aspects of Masonic Symbolism
Long out of print, Arthur Edward Waite's "Some Deeper Aspects of Masonic Symbolism" is a must read for those Freemasons interested in a better understanding of the Masonic degrees that make up the Craft Lodge of Masonry.
Waite covers such topics as, the meaning of initiation, the Third Degree, the Christian Mysteries, Operative Masonry, The Old Charges and a host of other topics.
A lso included in this small volume is "An Appreciation of Arthur Edward Waite" by Joseph Fort Newton and an afterward by Stephen Dafoe on the importance of Pythagorean Symbolism in Masonry unique to this volume. Templar Books is pleased to bring this lecture by the late Arthur Edward Waite to the Masonic Fraternity once again.
Pentru a descarca gratuit un exemplar electronic Click aici !
---
The Templar Orders In Freemasonry
HAVING regard to the fact that Emblematic Freemasonry, as it is known and practised at this day, arose from an Operative Guild and within the bosom of a 
Development
 from certain London Lodges which prior to the year 1717 had their titles in the past of the Guild and recognised its Old Charges, it would seem outside the reasonable likelihood of 
Things That
 less than forty years after the foundation of Grand Lodge Knightly Orders should begin to be heard of developing under the aegis of the Craft, their titles in some cases being borrowed from the old institutions of Christian Chivalry. It is this, however, which occurred, and the inventions were so successful that they multiplied on every side, from 1754 to the threshold of the French Revolution, new denominations being devised when the old titles were exhausted. There arose in this manner a great tree of Ritual, and it happens, moreover, that we are in a position to affirm the kind of root from which it sprang. 
Pentru a descarca gratuit un exemplar electronic Click aici !
---
Lodge of I nstruction, in connection with Lodge Progress, Glasgow. At the urgent request of a large number of the members of the Craft, these are now published ;mainly through the labours of a publication Committee, appointed by that Lodge. The author takes this opportunity to acknowledge his indebtedness to the members of that Committee, for the pains they have so freely taken in the publication. He has, also, to thank those brethren who assisted him in putting his rough notes into proper form ;and cannot, without appearing ungrateful, avoid mentioning the names of Br. Alexander Bruce, D.P.G.M. for the Province of Glasgow, and Br. William S. Galbraith, P.M. of Lodge Progress the former for his very kind criticisms and corrections of the text, and the latter for his most careful revisions of the typography, etc. Many pressing duties and demands left the author little time and energy to do justice to his subjects. His studies have been limited to his leisure hours, and the composing of these lectures have merely formed a pleasant relaxation from the strain of a busy business life. He is, therefore, painfully conscious that there must be many imperfections in his work ;but if, notwithstanding these, this volume should prove helpful to the members of the Ancient Craft, he will be greatly gratified and amply rewarded. GLASGOW, December,
(Typographical errors above are due to OCR software and don't occur in the book.)
Pentru a descarca gratuit un exemplar electronic Click aici !
---
Pentru a descarca gratuit un exemplar electronic Click aici !
---
Pentru a descarca gratuit un exemplar electronic Click aici !
---
The Symbolism of Freemasonry by Albert G. Mackey
Of the various modes of communicating instruction to the uninformed, the masonic student is particularly interested in two; namely, the instruction by legends and that by symbols. It is to these two, almost exclusively, that he is indebted for all that he knows, and for all that he can know, of the philosophic system which is taught in the institution. All its mysteries and its dogmas, which constitute its philosophy, are intrusted for communication to the neophyte, sometimes to one, sometimes to the other of these two methods of instruction, and sometimes to both of them combined. The Freemason has no way of reaching any of the esoteric teachings of the Order except through the medium of a legend or a symbol.
Pentru a descarca gratuit un exemplar electronic Click aici !
---
Pentru a descarca gratuit un exemplar electronic Click aici !
---
Pentru a descarca gratuit un exemplar electronic Click aici !
---
---
---
---
---
---
---
---